Out and About Nordic Walking:
WESTHAVEN ROTARY CLUB - Auckland

June Stevenson Presents Nordic Walking to Westhaven Rotary Club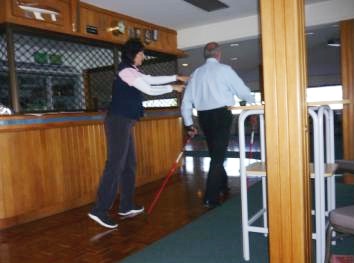 ---
China - Nordic Walking Their Way To Health
For more on this story from the China Daily
please click on the link:

According to a report from China Nordic Walking Association, China has around 100,000 Nordic walkers and 20,000 people practice regularly.


In Beijing, there are 30 parks which have Nordic walking clubs. More than 100 government units and companies organize walk training for their employees. It was also introduced in 2008 Beijing Olympic promotion events, and in 2010, Nordic walking orienteering was part of China Orienteering Competition.

Since 2008, Beijing has been annually organizing an International Nordic Walking Event with over 1,000 participants each time, including walkers from the Japan Nordic Walking Association and from Finland.

"Nordic walking is becoming a popular park game, or exercise for Chinese people," said Yao Xinxin, head coach of the International Nordic Walking Association in China. As a sports science specialist at the China Institute of Sport Science, he was the one who first introduced Nordic Walking to China.
---
Coach Shares Wisdom On Proper Pole Nordic Walking
Nordic pole walking now has a foothold in New Plymouth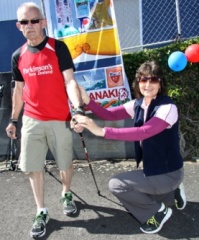 Pole walking:
National Nordic pole walking coach June Stevenson shows New Plymouth man Ron Rickman the proper technique.
National specialist coach, on behalf of the International Nordic Walking Federation, June Stevenson was in town last week to teach people the proper technique. It is a type of fitness exercise where people, aided by specialised poles in hand, use 90 per cent of their muscles.
---
Health Benefits To Nordic Walking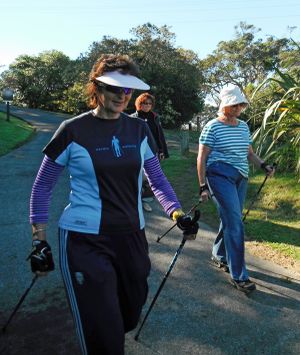 You can't miss her. June Stevenson, in her mid-50s, is a Nordic walker who struts around Auckland city every day, poles in hand.

And not only does Mrs Stevenson enjoy the cardio exercise, as the only certified instructor for the International Nordic Walking Federation in New Zealand she is converting others.

Nordic walking is based on cross-country skiing and originated in Finland as a way for cross-country skiers to exercise in summer, using a specific type of carbon-fibre pole that enhances stability.

---
Nordic Walking - Cathay Pacific Events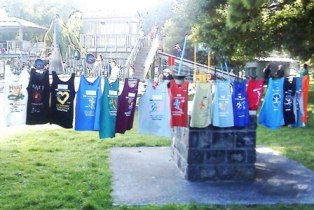 The New Zealand Cathay Pacific 11km and Half marathon is a long standing running and walking event that has been a feature of the Auckland waterfront since the 1980's. I remember running the half marathon when it started from the (former) Hyatt Hotel and finished at the downtown end of Queen Street.
Over the years is has changed sponsors, with Cathay Pacific Airlines, Barfoot and Thompson Real Estate and Asics being major supporters. The event is organised and superbly managed by the Calliope Athletics and Harrier Club, who have refined and changed the route to allow both distances to be run simultaneously without undue disruption to each other.
---
The Great Ocean Walk: Realisation of a Dream
After watching 'The Art of Walking: Great Ocean Walk' (1), keen NZ Nordic walker Margaret Hudson dreamed of walking the 104kms from Apollo Bay to the Twelve Apostles. Ten months later, she flew to Australia to realize that dream.
---
Nordic Walking NZ - Orewa Beach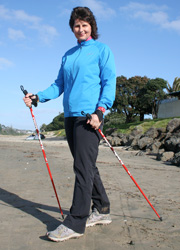 The purposeful strides of lycra-clad Nordic walkers, poles extended, attracts attention among the relaxed strollers on Orewa Beach and
leaves no one in any doubt that this is a fitness boosting activity.

Nordic walking coach June Stevenson describes it as a complete workout that engages 90 percent of the muscles as well as improving posture and range of motion.
---
NORDIC WALKING AUCKLAND NEWS
"Just what the Doctor Ordered"
Dr. Neil Hutchison has always valued the importance of exercise and had remained as active as he possibly could, until bouts of arthritis began to affect his knees and feet. About five years ago, he began Nordic Walking, with the hope that this activity would help him remain active, but reduce the load on his joints.
With only minimal instruction, Neil quickly experienced the benefits of Nordic Walking. He was able to maintain a high level of fitness and movement, which was no longer restricted by his arthritis. He was able to continue to enter endurance events, as a Nordic Walker, and has successfully completed 10km and 21 km events.
Neil realised that he needed to improve his Nordic Walking technique, with the view of reducing his 10 km time. He contacted June Stevenson (Nordic Kiwi Nordic Walking), an NZ Nordic Walking Coach and registered Exercise Trainer. The one-to-one coaching sessions focussed on technique improvement and general speed. June can customise personal training sessions to suit all fitness levels, and the one-to-one sessions are ideal for people with busy lifestyles or who may have mobility, neurological or rehabilitation conditions.
Neil recommends Nordic Walking to his patients and some are now members of the North Shore Nordic Walkers. Nordic Walking is a great social activity, and one of the benefits of Nordic Walking with a group is the motivation, support, friendship and encouragement of your fellow walkers.
In September, Neil completed the 10 km event with his Nordic Walking poles, that he had targeted to improve his overall time. Here is an excerpt from the email he sent June:
"Yesterday I was 5th in the Whangamata 10 km walk at 1hr 17 which was about 5 minutes faster than last year, so I was pretty pleased with that. It certainly takes a bit of focus on each of the basics for the whole distance!"
Article compiled by:
Dr Neil Hutchison, Kay Livingstone, June Stevenson
---
NORDIC WALKING and DIABETES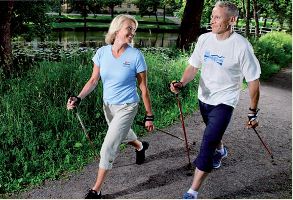 An Effective Exercise Option
Nordic Walking is a fitness activity that enhances the natural walking movement by the addition of specifically designed walking poles. Nordic Walking has become a worldwide phenomenon as people discover the health and fitness benefits of this unique and effective form of exercise.
---
Walk like a Scandinavian
| | |
| --- | --- |
| | Enliven your low-impact regimen with this imported full-body conditioner. Nordic walking targets multiple major muscle groups and increases your range of motion. Pick up a couple of poles and get going. |

This unique form of exercise originated among Scandinavian skiers, who developed it as part of their off-season training program. All summer long they mimic the classical skiing technique on every imaginable surface. For years one of the best-kept secrets in sport, Nordic walking has finally gone mainstream.
---
"Just a Walk in the Park - Yeah Right" - Kapiti Nordic Walkers out for their Sunday Stroll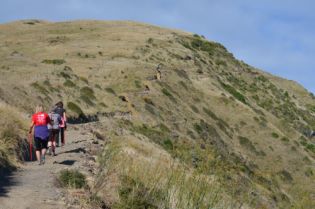 Nordic walkers from the Kapiti area recently walked a new section of the Te Araroa walking trail. This "Escarpment Section" will eventually connect Paekakariki to Pukerua Bay.
The walking track provides a physical as well as mental challenge. The first 2 kms is gentle and undulating, reaching a height of 50 metres before the "serious" part of the walk begins. A notice at the beginning of the track advises people who suffer from vertigo should not attempt it. Sections of the walk confirmed that! Zigzagging up the hillside, the track is a combination of a steep narrow path and even steeper steps! In 1.3 kms, the walker goes from an elevation of 4 metres to an elevation of 218 metres.
It was a warm clear day with a gentle southerly, which provided a refreshing cool breeze. Walking with Nordic Walking poles shared the load between the arms and legs and helped with balance, making the journey easier. The lungs had a good workout as well! The panoramic views from the lookout were amazing, providing photo opportunities and a welcome refreshment stop.
The return journey provided a different perspective of the climb. We could see the mountain falling away from the track to the railway line some 200 metres below. As we negotiated the steps, they looked even steeper, with some having 90 degree turns. One was conscious that if a step was missed or a stumble took place, you might have a bouncy trip to the bottom of the mountain!
In summary, this track was most enjoyable. Everyone finished the walk breathless but exhilarated knowing that this trail is a precursor to what will be a great walk. Now, when are we doing this walk again!

Photo & Story (edited) by John Darnley
---
STIRLING SPORT - NZ Half Marathon and 11km Run & Walk
(formerly Cathay Pacific)
The Stirling Sports Half Marathon and 11km Run & Walk is organised by the Calliope Athletic and Harrier Club Inc
Congratulations to everyone who took part in the Stirling Sports event. All participants did well with many people improving their finishing times.
Jenny was one of our Nordic Walkers who took part in the Training Squad Classes and was very pleased with her performance:
Hi June,
I have just got home and checked ... I did it (half marathon) 10 minutes faster than last year - Thank you. I really enjoyed the training and as you can see from my time improvement it certainly benefited me. Even if I d done a slower time, I would still do the training again, because, after all, it s how you are on the day. But of course you had prepared us well to be ok on the day. Within a shortened built-up time, you put together a really interesting and enjoyable training schedule which certainly helped us develop stamina and improve our speed. Also you gave us valuable pointers on our technique. It was great going to different parts of Auckland and meeting new people to train with and the supportive bond that everyone had for each other. So thank you and Paul for all your help and support - it was great.
Kind regards,
Jenny McKenzie
For more information:
---
Rotorua Marathon, 1/2, 1/4 and 5.5k - 4 May 2013
The 49th Lion Foundation Rotorua Marathon, Half Marathon, Quarter Marathon and 5.5km Events were held on
Saturday the 4th of May. One minute's silence was observed, in remembrance of those people who were killed and injured at this year's Boston Marathon. Many entrants also wore black armbands.
Fortunately, the expected stormy weather did not arrive until Saturday night, so ideal conditions were experienced throughout the day. Three years ago, the half marathon distance was added into the events. This year, the route had been changed, taking in more of the rural landscape with less time spent on the main road. The largely flat course provided a good fast pace, but was also suitable for newcomers and a number of 'squad' jog/walk groups.
I found the new half marathon course to be ideally suited for Nordic Walkers. There was plenty of room to pass others, without fear of walking outside the cones, being wiped out by a logging truck, or having those jog/walkers pass you … then stop right in front, causing you to have to negotiate the 'go by' again!
Next year is the 50th anniversary of this iconic event. Participating in any of the event distances is to be part of history and I invite you to be part of Nordic Kiwi's Nordic Walking team.

---
Archive