Welcome to Nordic Walking
Nordic Walking is an exercise and fitness activity which uses specially designed Nordic Walking poles during regular walking. This form of exercise is a smart and effective, total body workout that uses 90% of your muscles 100% of the time ... walking just got smarter!
It could be the perfect health solution for you. Nordic Walking is used by Olympic X-Country Skiers, elite athletes, endurance competitors and the general population. It's an ideal way to improve your health and fitness.
It also has applications for special population groups, such as those with Parkinson's Disease, Chronic Obstructive Pulmonary Disease, Breast Cancer, Osteoporosis, Obesity, Joint Replacement patients, Amputees and the Elderly.
Following the guidelines of Fitness NZ, Nordic Kiwi Ltd , a 100% New Zealand owned company, support the concept that a fitness activity should be taught by certified Instructors, with a Health, Fitness or related field background. All Instructors are certified by the International Nordic Walking Federation (INWA).
Visit the Classes section to get started!
---
Rotorua Marathon, 1/2, 1/4 and 5.5k - 4 May 2013
The 49th Lion Foundation Rotorua Marathon, Half Marathon, Quarter Marathon and 5.5km Events were held on
Saturday the 4th of May. One minute's silence was observed, in remembrance of those people who were killed and injured at this year's Boston Marathon. Many entrants also wore black armbands.

Fortunately, the expected stormy weather did not arrive until Saturday night, so ideal conditions were experienced throughout the day. Three years ago, the half marathon distance was added into the events. This year, the route had been changed, taking in more of the rural landscape with less time spent on the main road. The largely flat course provided a good fast pace, but was also suitable for newcomers and a number of 'squad' jog/walk groups.

I found the new half marathon course to be ideally suited for Nordic Walkers. There was plenty of room to pass others, without fear of walking outside the cones, being wiped out by a logging truck, or having those jog/walkers pass you … then stop right in front, causing you to have to negotiate the 'go by' again!

Next year is the 50th anniversary of this iconic event. Participating in any of the event distances is to be part of history and I invite you to be part of Nordic Kiwi's Nordic Walking team.
---
STIRLING SPORT - Half Marathon and 11km Run & Walk
(formerly Cathay Pacific)
The Stirling Sports Half Marathon and 11km Run & Walk is organised by the Calliope Athletic and Harrier Club Inc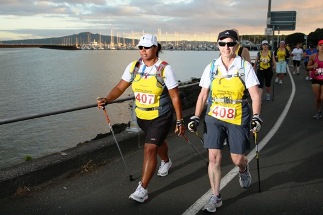 Congratulations to everyone who took part in the Stirling Sports event. All participants did well with many people improving their finishing times.
Jenny was one of our Nordic Walkers who took part in the Training Squad Classes and was very pleased with her performance:
Hi June,
I have just got home and checked ... I did it (half marathon) 10 minutes faster than last year - Thank you. I really enjoyed the training and as you can see from my time improvement it certainly benefited me. Even if I d done a slower time, I would still do the training again, because, after all, it s how you are on the day. But of course you had prepared us well to be ok on the day. Within a shortened built-up time, you put together a really interesting and enjoyable training schedule which certainly helped us develop stamina and improve our speed. Also you gave us valuable pointers on our technique. It was great going to different parts of Auckland and meeting new people to train with and the supportive bond that everyone had for each other. So thank you and Paul for all your help and support - it was great.
Kind regards,
Jenny McKenzie

For more information:
---
GETTING STARTED

Learn to Nordic Walk and learn how you can improve your own fitness level. Walking with poles is fun, easy and it's the smarter way to exercise. Book now with one of our INWA® qualified leading Nordic Walking New Zealand instructors and bring a friend, make the first step for a fitter you!

START NOW and CLICK HERE for more information.

CLASSES

If your going to learn how to Nordic Walk, learn from the best, all our Nordic Walking New Zealand instructors are all INWA® quallified. Our classes are short and enjoyable covering the basics through to advanced technique and it is a total body workout and a great way to exercise.

Check the CLASSES section for news of our FREE TRIALS in your area CLICK HERE.

EVENTS

From Feature Walks and Social Events, to Walking Events and Marathons in New Zealand, we have it all. If you want to take your poles to an event check with us first. We have all the 'Nordic Walking Friendly' events listed here.

For more information about EVENTS please CLICK HERE.